Linda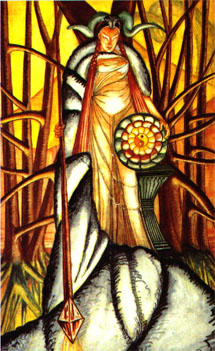 Linda is a fifteen year old girl, living in Stockholm. She calls herself a witch and practises the beliefs of Wicca. I met her at a café to have a talk about Wicca and what it ment being a witch today. She asked to be anonymous; Linda is not her real name.
Linda is sitting at the table behind the aquarium, just as she said she would.
"Linda?" I ask as she gets up with a smile and we shake hands.
"I'm Simon," I say, but I suppose she already knows.
If I had any preconceived opinion of what a witch should look like she does not fit in at all. Her half-long hair is brown and her dressing is no different from just anybody I could have passed on the street. We sit down in the fluffy sofa and I notice she is wearing no shoes. They have been put away under the table and Linda has cozen up in the sofa with a milkshake in her hands.
Linda is fifteen years old and has been a witch since the age of twelve. I wonder if that is a young age for becoming a witch, but Linda's view on it is:
"Witch is just a name for something. Anyone can be it." But that is not the general opinion. "Some have the feel that you have to be born a witch in order to become one. But I disagree. Wicca is a religion and religion should be for everybody, not for a chosen group," she says determined and takes a sip of her milkshake out of a slim glass.
To become a consecrated Wiccan you have to be eighteen years old. But the consecration is not the most important thing for Linda. "The most important thing is how you feel inside," she says. "You can still be a witch even though it is considered that serious Wiccan groups should not accept members under the age of eighteen."
I ask her if she will be consecrated when she turns eighteen. For a little while she is quiet, thinking. "If I find a coven that fits me," she says and ponders again. "Maybe I'm not that much acting like a witch, but more thinking like one." She stirs in the lean glass with her drinking straw.
Do you think that women are better witches than men are?
"I think that it is easier for women than for men. We are made differently and women have a stronger developed talent. It's hard to explain. Women are more open."
So women are better witches than men?
"Yes, I think that. Women are better witches than men, but we're two different parts of the same thing. Men and women complete each other."
How do people react when you tell them that you're a witch?
"Well, I don't tell it to strangers," Linda smiles. "But most of whom I tell get very curious. They often want to know more. I'm actually surprised how open people are about it."
I asked Linda about her parents' view, but they have noting against her being a witch. "They trust in me and that I have enough good judgement not to do anything foolish. I have many books at home, so they know what Wicca is about."
When it comes to Linda's friends she just shrugs her shoulders. "I don't know what they think," she says without looking the slightest sad. "They are not interested so they don't know very much about it. I don't that have many 'witch buddies', if you know what I mean."
Although Linda asked to be anonymous she doesn't feel threatened by being a witch. "Things mostly happened in the states, Sweden is fairly safe. The biggest threat would be extreme Satanists or extreme Christians," she says. "But they are not many."
Although Linda wants to call herself a witch she does not want to be connected with the 'picture of a witch'. "I've had my days of long red dresses, but I've gotten over it," she says.
Most people get a bad taste of the word witch. So why call yourself a witch? Why not healer or magician?
"I've thought about it too," she says. "But I can't come up with any better word. Healer or magician doesn't describe what we are. We're not healers or magicians that's something else. I think that 'witch' sounds nice actually," she suddenly says with confidence.
Something that is traditionally associated with Wicca is the broom and the black cat. I wondered if these two things only belonged in the stories or if they really did belong in the Wiccan traditions and to my surprise they did. The cat is considered being a very spiritual animal and the broom is used for its traditional purpose, cleaning up after one self. "But I think these two tings came after the stories," Linda says. "Though, I like the broom. It comes in handy."
Linda does not want to be associated with New-Age. It almost seems like she has got a deep grudge against this unorganized group of meditators and healers. But isn't Wicca a part of New Age?
"No, I don't think so. New-Age has a very narrow view of the world. Everything has to be light or dark. In Wicca we have this gray middle-zone, but it doesn't necessarily have to be bad. I think that New-Age sounds more negative than Wicca, for bringing in the Oriental religions in the western culture and forgetting their actual origin.
"No, I don't feel that Wicca is a part of New-Age. Wicca is not about innovating a 'new age', but about resuming an old age."
In folklore witches were women connected with the devil, but what is the view of the devil in Wicca?
"We have a horned God, from the Celtic religion, which might resemble as the devil, but he is not merely evil," Linda says. "We don't have any all-through evil force. God is both good and evil. But we don't worship evil, only good."
Are there 'evil witches'?
"There might be Satanist calling themselves witches," Linda explains. "But no, there are no evil witches who practices the beliefs of Wicca."
Can you be both Christian and a witch?
"Well, I confirmed myself this summer. To get to know where I was standing. It's true that some say that you have to leave the Swedish Church. Myself, I don't think that it matters. It's not about what's written on a piece of paper. But…" she says and looks a bit split. "The thought is that Wicca should be a religion of its own. Of course one can share the Christianity's way of approaching God. But I, myself, am feeling closer to Wicca than to Christianity. There are many things that are wrong in Christianity in my opinion."
Wicca is a religion that is laying a high importance in the closeness to the nature. Is it then not a bit of a paradox when imagining a witch who sits in fronts a computer and connects to the Internet?
"Yes," Linda says with a bit of laugh. "But a the same time it is also a very good way of reaching out to people. I live in the middle of the city, which is a thing that worries me. But at the same time I'm very comfortable here."
So you do not feel that the closeness to the nature is suppress by the evolving technology?
"No, it just compensates the experiences. TV and radio are just people displaying their feelings."
When I wondered how Linda practises magic she first of all made clear that Wiccan is not the same as Magician. "Magic is difficult. Nothing you play with," se says. "I rather use my own psychological skills than different magical items. I want it to be something I can feel. I don't use magic very often, I rather do it through the God."
What is then your definition of magic?
"What Wicca actually mean is 'to bend'. By using magic one can bend the reality. I mostly use amulets, but it is always one self who does it, the amulets are only a tool."
Staying on the subject, something very classical of magic is the love potion. Is it possible to make a love potion?
"Well," Linda says. "theoretically yes, but ethically…? Many would find it very unethical to be trying to control another person's mind."
Linda believes that all humans have further more senses than the five fundamental once. "It's just that witches gives more time for exploring them. Though, we do all have the same conditions," she says. Telepathy and contacting spirits are two things, which lies out of the normal human's abilities. But Linda believes in it. " I've been a séance and experienced it myself," Linda says. "I think Wicca is about intuition," she adds.
There was a forum at your page where I read a discussion about drugs. Is there much drugs in Wicca?
"Well, among the unserious Wiccans maybe. But I don't feel that drugs is a problem in Wicca."
Linda doesn't see the concept being a witch as something to make her living of. "There are not many Wiccans who actually work as witches. Myself, I don't think I'm interested enough and I'd like to do so many other things. There are so many other sides of me. My older brother is a graphical designer. Probably I'm going to follow in his footsteps," she says. I ask her what she herself really wants to be and she answers "Journalist. I like to write."
Out of the café, on my way home, I pull up the collar of my jacket higher and think what to make of all of this. I think of Linda who seems so self confident and sure of what she wants, but yet she won't follow her dreams in becoming a journalist. I think of what a witch should look like and I remember Linda's words:
"The thought is that a witch should be just like anybody else."