Rémember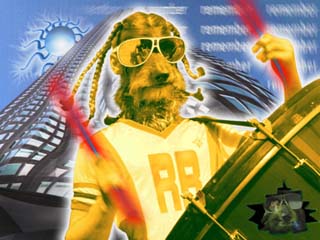 © dogfish




The Internet is getting all the more common among people, new homepages are made daily, personal as well as business related, thousands of people chat to oneanother on-line constantly, and bands are even making live conserts on-line. Just download a Real-player, from Real Audio's site and listen to the band playing without the delay.
In May the Hungarian band Rémember made a live konsert with iNteRNeTTo, a Hungarian Internet magazine. The music was transfered live on-line in Real Audio format, and between the songs the band answered questions by listeners on-line. "Strange kind of concert," Geiger — the guitarr player — says, "it was very different indeed." Geiger, Acon (drums) and Fibula (song) seem somewhat unused the the Internet as we meet on IRC for the interview. I didn't expect them all to come, but we only missed the bass player, Gergö, during our, almost, two hour chat.

The band was formed after Fibula's return from Canada, where he got into the grunge scene of beyond the ocean (European perspective). Since Acon and Geiger are brothers, and Fibula is living next door (always has), and they all were interested in that kind of music, it was only natural they should form a band. Gergö they met later, during a concert by one of their favourite bands, Sonic Smell. "A sad story," Geiger reveals as I mention the name. "I mean Sonic Smell, they were the best band here." As well as Rémember the band sang in English, which led to that no Hungarian record company would to release their album, and eventually they quit the music.

I'd like to call them a grunge band, but they object. "We're not grunge, really," Geiger says, "That's just like an influence." Other influences seem to be Pearl Jam, Nirvana, Red Hot Chili Peppers and a local, underground band called Csigafroccs (actually taking up the first place on the influence list), csiga meaning snail and froccs being a funny word for wine. All bands with a relatively small audience in Hungary. Nirvana has a somewhat larger audience, the guys say, but still seem not to be as popular as Hungarian-singing bands. Though Nirvana has only played in Hungary once. "1988, in Budapest," Geiger says, "When they were still small. We missed it."

In Sweden Spice Girls are growing all the bigger, shocking us Swedes first with Wannabe and now with their latest album Spice World (though they canceled their tour in Sweden; due to the fact that they don't perform in a country where the citizens are more beautiful than themselves, a Swedish evening paper wrote). But they don't seem to have the same success in Hungary. "Now we get mostly German machine techno music and its Hungarian equivalent, which are rather hilarious. They subdue even Spice Girls. Backstreet Boys are doing pretty well, though..."

As for today Rémember is still in negotiation about publishing an album with American small label record companies, they are not sure which way it will go just yet, but are excited about it. While you're waiting, you may enjoy their on-line release Megalomaniac, containing the songs Silence is the Rest, Corny Snake, Hit the Ground, Comfort Planet, Forest Wake and Jackpot Jazz (all RA versions linked from iNteRneTTo's homepage). Or download them in MPEG3 versions direct from the site. Perhapas you'll find Rémember in the record store in a day or two.

The on-line release, Megalomaniac, contains mostly fast songs, in a genre which Rémember, themselves would like to describe as NeoGrungeFunkPunkRock. They are at their best in songs like Comfort Planet, with a screaming kinda Punk-Rock, or if you like NeoGrungeFunkPunkRock. Also in Forest Wake, which is one of the calmer songs. I still haven't made much sence of the lyrics, but they gave me the tip to look for Shakespeares Hamlet in Silnce in the Rest, and a friend of mine studying performance art said perhaps there isn't supposed to be a meaning in the lyrics. So perhaps I should just sit back and enjoy. The music. Personally, I'm waiting for the band to come and gig in Sweden, they said they'd be delighted to. I would too.