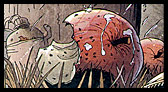 text:
Labolina
pic:
from Grendel Tales:
Devils and Deaths
I took the long way down by the lake and the lonely green house, which stands all on its own in the woods. Actually all I wanted was to forget, maybe that's why I pushed myself harder than usual. I was panting even before the first hill and I realized this was nothing I couldn run away from. My temper is like a roller coaster; one day I want to make you feel exactly as you made me feel and the next day I love you and forgive you. Even the sun has spots. A moment later I want to hurt you again, but deep inside I know I could never hurt you.

It's strange because I know it's over, but still I don't want to believe that it is. Did it go to fast? I wasn't prepared, wasn't ready. Everything was fine, or so I thought. But you knew in silence. How long had you known?

Everytime the phone rings I hope. And everytime I'm disappointed. I guess I already know it's not you. Maybe I'm just naive.

I've began hating the sound of phones. Mobile phones are the worst. Everytime I hear a mobile phone on the bus it sends shivers down my spine. Yesterday I dropped my mobile phone into the water. I was standing on the bridge staring down into the waves, watching the phone disappear. Maybe it's ringing down there from the bottom of the sea. Maybe it's you on the other side. But I don't think so. I'm just hoping.