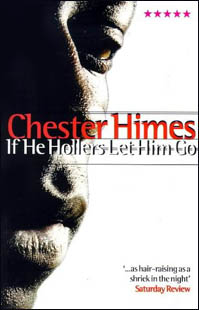 If He Hollers Let Him Go
Chester Himes

"I felt castrated, snakebellied and cur-doggish, I felt like a nigger being horse-whipped in Georgia. Cheap, dirty, low. I wanted to grab some bastard and roll down the stairs. My face felt tight. The taste of wite folks was in my mouth and I couldn't get it out."

If He Hollers Let Him Go is Chester Himes first novel and it distances itself from his later more famous hard-boiled Harlem detective novels, such as Cotton Comes to Harlem, The real Cool Killers and A Rage in Harelm.

The story takes place in the 1940's in California. Bob Jones is the only black foreman in a shipyard during World War II. As in society the black workers are separated from the white. And though Jones is a foreman the color of the skin seems to be more important on the shipyard.

Jones is stuck between the desire to strike back against the society on one hand and the urge to understand it on the other. He's girlfriend Alice is only concerned that he'd forget his hate to the society and learned to get along with white people. Jones doesn't want more than to forget about race, and just see humans as they are, though he is constantly reminded about being black, through every action, and the reminder keeps haunting him in his dreams.