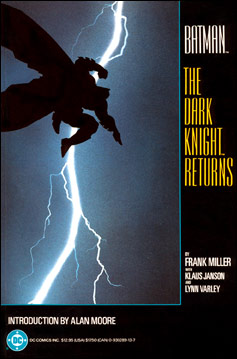 The Dark Knight Returns
Frank Miller, Klaus Janson, Lynn Varley

Gotham City has moved into the future, still as always the city wears its crime scene as everyday lipstick, the news constantly reporting of new happenings. Simultaneously an ageing Bruce Wayne decides to once and for all become Batman again.

Frank Miller redefined comics with his resurrection of Marvelís Daredevil in the 80s and the violent Sin City in the 90s. The Dark Knight rounds of the Batman tale with the final fight between Batman and the Joker. Even the Superman takes part of the action. In fact there is an upcoming sequel.

The book is one of Millerís most popular and appreciated works, and I canít but agree.