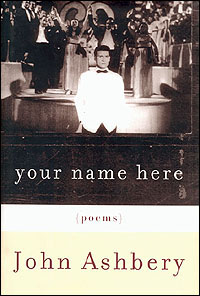 Your Name Here
John Ashbery

John Ashbery is both surreal and dreamlike in his twentieth poetry collection, Your Name Here. And it's funny in an elegant sort of way.

I'd like to think that if I'll close my eyes I'll be in some far away mysterious dream world located just beyond my eyelids, in my own imagination. I suppose it's about memories, the magic phenomenon of childhood and in a way nostalgia.

I like the idea of creating my own meaning to things. Even memories not my own. I put my name right there in the front, and in my world it all makes perfect sense.