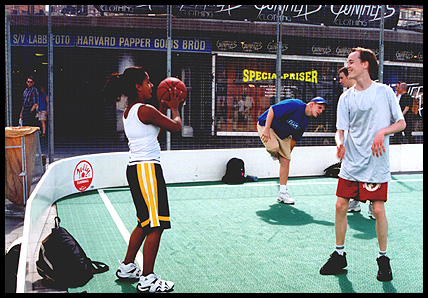 A Girl and Her playground
Kin Sundberg has been dribbling the ball for six years. She's currently playing for Lidingö (Girls '83), a suburb north of Stockholm.
She's the only girl playing among the guys as we pass Slussen, where Fryshuset has arranged with some street ball playgrounds. It's hot ( one of the few days it didn't rain this summer ) and our T-shirts stick to the skin even though we're not playing.
Music is streaming from giant speakers, and the human speaker whose voice sometimes is heard over everyone else's.
Kin prefers indoor basketball before street ball, but says street ball is also fun. Especially arranged like this, because one gets to meet a lot of new people every day.
Isn't it tough playing with the guys?
- It is. But it's also more fun playing with guys. There's more action and the game becomes more physical.
Indoor basketball is fun when the team does well, considers Kin, and her own team is currently moving up.
Do you have any role models within basketball?
- Michael Jordan of course. He's the man! ( laughing ) No, I don't have any particular role model. I don't follow professional basketball that well.
Streetball is still rather unusual in Stockholm. Soccer is the big game in Sweden. During the summers people are usually playing at organized playgrounds at Slussen and also Sergels torg.