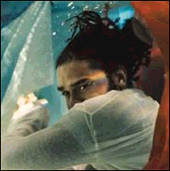 Embrya
Maxwell
From a superb debut with "Urban Hang suite", in 1996, Maxwell continues with honey-sweat soul in his latest. "Embrya".
It begins with simply music, the continuos drums which are like a rhythm throughout the whole album. And then the choir and Maxwell take in, in "Everwanting: To Want You To Want"
The music is drums, the pitch choir with Maxwell; some times on top, some times below, and some times ( in a complex way ) a part of the choir. The sensuality is constantly in the rhythm, though some times you only suspect it's there, somewhere.
Maxwell himself says the album has a personal religious message.
"This album is definitely about 'within', about my outlook on the inner thing I'm desiring. And most of it is truly a love letter to God."
The album is literary without valleys, but with high peaks as the ballad "Know These Things: Shouldn't You". And another peak: "Luxury: Cococure" which is a welcome to the internal luxury, leaving the love affair — chronicled by "Urban Hang Suite" — behind.
Basically there are more than one meaning to the songs in Embrya, and if the meaning is usually hard to interpret from music ( after all, music is felt not understood ), Embrya is super hard to interpret. But it's also feeds one with super beautiful feelings.
I can't help wondering what will come out of this embryo in the future. Because Embrya, the last song, is actually a hint of what is yet to come.