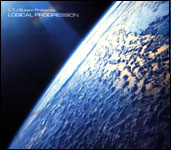 Logical Progression
PRESENTED BY L.T.J. Bukem
"He's one of the hottest DJs in London," Tommy said, answering my question, simultaneously flipping the bluish CD cover into my hands.
Drum'n'bass is hot, partly because it's still relatively new. Three years ago I'd still have called this techno. Today it belongs to a genre of its own. There's this heat over anything new and hip, making it untouchable for critique. Because people just don't understand it.
With his music Bukem tries to break the paradigm of creating what already is. It's like walking into a club and hear the DJ play all these odd sounds to try them out. He can have a box full of sounds one likes and loves, but the jockey won't play them because he wants to try them out on the audience. And yeah, that's partly what disc jockeys do.
I'm not sure whether this is a progression or not, and perhaps I'm not fit to make that decision. I'm not a DJ, and progressions are usually noticed first decades later.
- So did you like it? Tommy asked me on the phone the next day?
- Yes, and no. It depends what mood I'm in when I listen to it.
- You can say that about all music.
- Well, yeah.