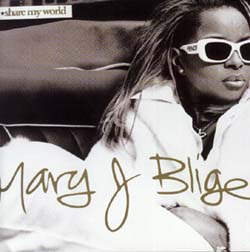 Share My world
MARY J BLIGE MCA RECORDS, INC.
I can't stop listening to this CD.
There's just to much of that something in it for me to stop. It's so easy just to put it in push PLAY and REPEAT, and just don't do anything else... but listen. Mary Jane has a lovely voice and a bitchy attitude to come with it. I can't resist it.
She begins all cooky [kacksig?] with track 2. i can love you better [than she can] and keeps it up through the whole album. Though my favourite track must be seven days. The song about that love you never believe you'll get, until you stand there with it all. And you just can't believe it's true.
Or have you ever felt that a person can be that everything for you, making all your dreams come through, and all the things which comes with love. This track as well as many of the others are about love, and the possitive feelings of life. though one's not always feeling up, for me this is a record for all moods. I just can't resist the grove, the beat, the lyrics or Miss Jane. You make me feel like a natural woman music freak, Mary.