Loser

Svante Tidholm is standing outside the subway entrance, at the top of the stairs, as mirash and I make our way up. For a moment I'm doubtful — is it Svante? But he wears his black T-shirt with the word loser on it, it sure is Svante. He's wearing brown, dark pants, and worn sneakers. He looks as a skater.
People have said this guy has a good self-confidence. And it's proven by the fact that he begins learning to maneuver a skateboard at the age of twenty.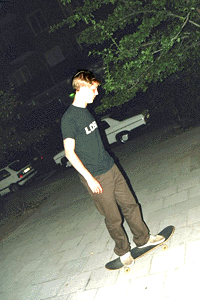 "I had gravel roads where I lived as a kid," he says later, "so I'm taking back what I've missed. I've never been able to go by skate board as a kid."
I've read plenty of bytes of what this guy's been writing and now I'm trying to math up those bytes with the person I'm facing. It's an odd feeling, because I notice things I've expected to be there, and find new ones. This outer appearance is something totally new to me; you can't transmit it by writing down your thoughts, ponderings and opinions. But once he begins to talk I recognize him from his texts. He has a way of expressing himself mixing adolescent street talk, with more complex tongues.
Svante lives in Stockholm since two years back and works as a web designer at Spray. He also works as a free lance journalist, and is currently doing an article series on suburban Stockholm for SvD City. We're on our way to a nearby park, and Svante is telling us about his hitchhiking experience. Though, it's not recommended to hitchhike in Sweden. Just because usually no-one stops, and that's what happened to Svante. "So finally I took the bus home," he says.
It's getting dark and 7-11 is like a shining oasis of light in the darkness. You never notice when the darkness falls, but when we finished the interview it was night. The air was cool, but not really cold. The summer has been warm this year.
On the Net Svante writes mostly of his personal experiences, he's not afraid of speaking his mind, and revealing many things about himself. "I can't speak for anyone else,"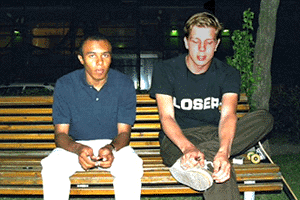 he explains when mirash asks him about the always reaccurig personal view. He's not trying to be objective about anything, because that's not possible. "Everything is subjective." You have to see the world through someone's eyes, and that's what Svante's doing. Showing his side of the truth.
He gives us a detailed example of a map, which would cease being a map the day it will reproduce the world exactly as it is. Then it becomes reality. Svante is only trying to make a map, not an alternative reality.
The reason why he has no taboo's of what so ever is that he considers people being to egoistic, not willing to share a little of themselves. By sharing Svante thinks we could get "a better world. Perhaps a little more painful, but definitely better." He writes about everything, from usual every day experiences to sexual experiences, and he can't see why he shouldn't be writing about things like sex. "We all fuck so why shouldn't we speak about it?" Though "some of the things I write about are probably not interesting at all," he says a moment later. "To fully understand a person [what he does, says, and thinks] one must know every detail about the person. Only then can you understand him."
Both his parents are writers, and his brother is a journalist at a Swedish morning paper (DN), but Svante doesn't think his family is his reason for writing. "My parents has have never demanded me to write. I grew up in a family where creativity was something natural. It then becomes something common, and not at all anything special as in a family where no-one writes."
In his reports he reveals his fondness of Tolkien's composed world, and that he has read the Lord of the Rings trilogy several times. To re-read the same book he compares to visiting a familiar place you like or meeting an old friend — you know what to expect, and what's going to happen, but it doesn't matter, because you will still enjoy it.
But he's not very fond of the thought of escaping from reality. "I'm ashamed to admit, but I've been looking up some on role-playing games," Svante says blowing out cigarette smoke to the side. "You shouldn't escape from reality, because in the end you only get depressed. Because nothing of it really exists." For a few seconds he looks genuinely sad, or perhaps seeking for something he knows won't be there. "Where are the dwarfs?" He looks at us, and then beyond us. But there are no dwarfs in Stockholm. "Where are the elves?" They don't exist." He shakes his head playfully. "You only get depressed." In his voice, some irony over his own longing to Tolkien's world.
continue to part two