Blade (Soundtrack)
V A R I O U S A R T I S T S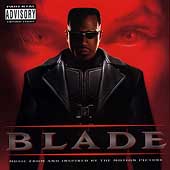 When not acting on the screen Wesley Snipes is a hobby DJ. The movie didn't have much of a story, but it there was some cool fights, if you're into meaningless violence.
The soundtrack is better.
It's a mix of violent rap and drum&bass. the contributing artists are KRS One, Bounty Killer, Gang Starr and DJ Krush contributes to the album with the last track, Dig This Vibe. It's a typical Krushy sound.