Welcome to the Cruel World
B E N H A R P E R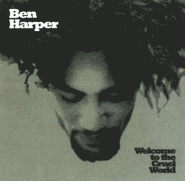 Ben Harper invaded my room with an acoustic guitar and a few songs. It was so simple, and still so much.
The songs range from happiness to just crying freedom. Harper has a way of saying things can be bad, but it doesn't matter, because we are free.
I fall for the songs and remember Maya Angelou's lyrics in the last track:
You may write me down in history
With you bitter twisted lies
You may trod me down in the very dirt
And still like the dust I'll rise
Does my happiness upset you
Why are you best with gloom
Cause I laugh like I've got an oil well
Pumpin' in my living room
And for a while, while the CD's spinning in the player Harper convinces me it really is a cruel world we're living in.
I like it. But it's cruel.