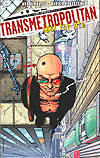 Welcome to the City!
Spider Jerusalem is a journalist at The Word, a paper at which his friend, Mitchell Royce, is city editor. Jerulasem is a hero and an anti-hero. Heís the modern super-hero where the super-hero lacks the super powers and the righteous-perfect-human-qualities. Heís just a swearing, smoking, violent city inhabitant. And still, closing the book I know heís also the city-hero.
This is a cyberpunk vision. It has the odd humor whichíll only fit in a comic book, and a huge amount of irony. The City is buried in a dystopian future, probably not for the people living in it. But still for us not yet there. The most detailed example is when a woman, from the nineties, is woken from her cryonic sleep, to face the world. Itís a long finger in the face of cryonists today, perhaps the future isnít as bright and perhaps eternal life isnít as sweet as it sounds.
The media is described as something as close as possible to what would have been criminal today. Itís implemented into the society to an extent that one canít cross the street without being subjected to five different media types from three different broadcasting stations.
And when youíve read the comic, check out some of Spider Jerusalemís columns for the Word. Among others, the now notorious "I Hate it here" (mentioned in the comic).